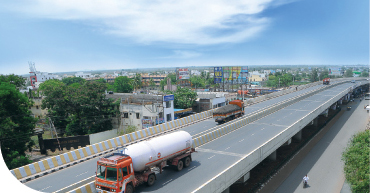 CUSTOMER SATISFACTION
VALUE CREATION
NATION BUILDING
The Company is a core Investment Company promoted by Gayatri Projects Limited a leading Hyderabad Based Infrastructure Company.
Gayatri Highways Limited operates as construction and investment company with 7 operational BOT Road Projects (SPVs) under it. The Company makes investments in companies engaged in the construction, operation, and maintenance of roads, highways, bridges, and tunnels. Gayatri Highways Limited operations are spread throughout India.
The Company has 7 Operational BOT Road Assets under it, 4 BOT Annuity and 3 BOT Toll Assets. The Total Value of the BOT Road Assets under the Company is Rs. 7,043 Crores. Annuity Projects provide the Company with stable Cash Flows while the Toll Projects provide with substantial upside.