Subsidiaries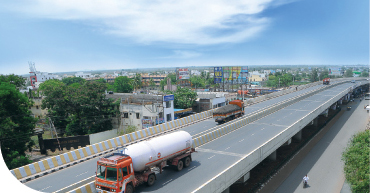 CUSTOMER SATISFACTION
VALUE CREATION
NATION BUILDING
Sai Maatarini Tollways Ltd
Sai Maatarini Tollways Ltd (SMTL) is a Special Purpose Company promoted by GPL. GPL bagged the contract from NHAI. The project involves Four-Laning of Panikoili-Rimuli Section of NH-215 from Km.0.00 to Km.163.00 (Design Length 166.173) in the State of Orissa under NHDP Phase – III as BOT (Toll) project on Design, Construction, Finance, Operation and Maintenance under Private Public Partnership on "DBFOT" Basis. The company has achieved provisional COD on 8th August 2017 and started toll collections from 17th August 2017
Indore Dewas Tollways Ltd
Indore Dewas Tollways Ltd. IDTL is a Special Purpose Company promoted by GPL. GPL bagged the contract from NHAI with consortium company DLF Infra Holdings Ltd. The project involves Six – Laning of Indore – Dewas Section of NH-3 from KM 577.550 to Km 610.000 and Km 0.000 to Km 12.600 (Approximate Length 45.05 Kms) in the State of Madhya Pradesh under NHDP Phase – V to be executed as BOT (Toll) project on Design, Build, Finance, Operate and Transfer "DBFOT" Pattern. The total cost of project is Rs.6,000 mn which enjoys 25 years of concession period which includes construction period of 30 months. The Project has attained PCC on 29/05/2015.
BALAJI HIGHWAYS HOLDING PRIVATE LIMITED
BALAJI HIGHWAYS HOLDING PRIVATE LIMITED (BHHPL) is a Company incorporated under the Companies Act, 1956 and situated in the State of Telangana, BHHPL is incorporated with and object to promote Special Purpose Companies whether in India or Abroad for undertaking Infrastructure Projects such as State and National Highways, Flyovers, Elevated Roads, Toll Roads, Expressways and is also engaged in the business of Building completion.